Door to door transfers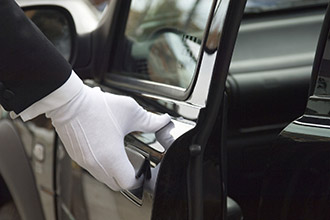 A door-to-door transfer is the easiest way to go from where you stay (hotel, villa, holiday house) to your next destination.
Driving around Italy may be difficult and stressful and it is often not possible to drive with regular cars in most of the city centers. During your vacation probably you do not want to think about parking places, authorizations to get to the city centre or to your hotel.
T.P.D.'s private drivers can pick you up directly at your hotel reception or your rented villa in any city or area of Italy without any restriction and drive you comfortably to your next destination with maximum reliability, safety and care.
Door-to-Door transfers allow travelling in the most efficient way on authorized vehicles (i.e. cars, minivans, sedans, and limousines). This type of service is particularly indicated even for transportation to main train stations, ports and airports maximizing your valuable time.
Our Door-to-Door transfers are available 24/7. We serve the main Italian areas to and from locations in Tuscany and Umbria such as Cortona, Florence, Siena, and Perugia.
Direct Transfer Rates
All prices are expressed in Euro, 10% Vat Tax excluded
Quotation for Van and Minibus on request
Available on Request connections between destinations not listed Below
Multilingual drivers
Prices per Sedan & Car – Departures from
Destination
Arezzo
Cortona
Florence
Montepulciano
Siena
Perugia
AMALFI COAST
630.00
600.00
690.00
600.00
630.00
580.00
AREZZO
75.00
165.00
125.00
150.00
160.00
ASSISI
180.00
125.00
260.00
150.00
210.00
95.00
BOLOGNA CITY /AIRPORT
280.00
300.00
200.00
300.00
260.00
330.00
CARRARA
290.00
340.00
210.00
340.00
300.00
380.00
CHIANTI
130.00
170.00
130.00
170.00
100.00
210.00
CINQUE TERRE
340.00
385.00
260.00
385.00
330.00
400.00
CIVITAVECCHIA
310.00
280.00
390.00
280.00
290.00
260.00
COMO LAKE
600.00
620.00
540.00
620.00
600.00
650.00
CORTONA
75.00
190.00
75.00
120.00
115.00
FLORENCE CITY/AIRPORT
165.00
190.00
190.00
150.00
230.00
FORLI / CESENA
210.00
200.00
200.00
250.00
280.00
220.00
GARDA LAKE
500.00
550.00
440.00
550.00
500.00
590.00
MILAN / LINATE
510.00
560.00
430.00
560.00
510.00
590.00
MILAN / MALPENSA
580.00
620.00
500.00
620.00
580.00
650.00
MONTALCINO
165.00
130.00
220.00
95.00
115.00
180.00
MONTE CARLO
630,00
650,00
575,00
650,00
630.00
700.00
MONTEPULCIANO
115.00
75.00
190.00
120.00
120.00
NAPLES
570.00
550.00
630.00
550.00
570.00
510.00
ORVIETO
190.00
175.00
255.00
175.00
190.00
150.00
PERUGIA
160.00
115.00
230.00
120.00
190.00
PIENZA
130.00
100.00
200.00
50.00
140.00
150.00
PISA
250.00
280.00
165.00
280.00
220.00
340.00
PORTO ERCOLE
270.00
260.00
300.00
260.00
210.00
310.00
PORTOFINO
400.00
430.00
320.00
430.00
390.00
485.00
ROME CITY/ AIRPORT
350.00
300.00
420.00
310.00
360.00
300.00
RIMINI
250.00
260.00
290.00
280.00
360.00
270.00
SAN GIMIGNANO
190.00
175.00
130.00
175.00
110.00
240.00
SIENA
145.00
120.00
150.00
120.00
190.00
TRASIMENO LAKE
120.00
55.00
210.00
75.00
145.00
90.00
VENICE
460.00
490.00
380.00
490.00
460.00
540.00
VERONA
450.00
480.00
350.00
480.00
430.00
530.00
VOLTERRA
220.00
190.00
155.00
190.00
125.00
245.00
HALF DAY
up to 4 hours
FULL DAY
up to 8 hours
send request